Aluminum Roller Conveyor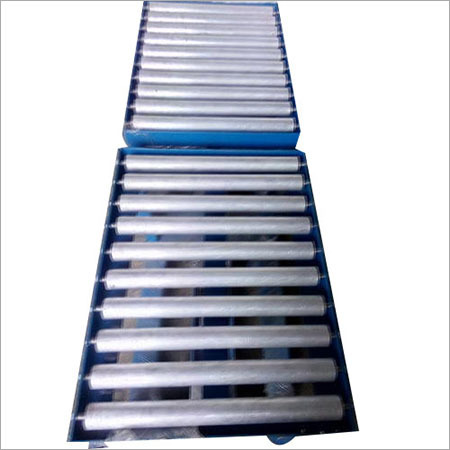 Aluminum Roller Conveyor
Price And Quantity
Product Specifications
Industrial

Aluminum Roller Conveyor
1-10 Foot (ft)

1-50 Kilograms (kg)
Product Description
For a reliable and efficient conveyor, you can not go wrong with our Aluminum Roller Conveyor. Featuring a strong, lightweight aluminum construction, our conveyor provides effortless movement of products and items throughout your facility. Its robust design includes a heavy-duty top plate, offering a rust-resistant and smooth surface. Whether you require a conveyor for various applications or are simply interested in the benefits of its strength and durability, our Aluminum Roller Conveyor will make a great addition to any industrial set-up.
The offered material handling machine is capable to carry larger loads within the load capacity of 30 to 200 kilograms. Customers can get this heavy-duty industrial conveyor with a supply capacity of 20 units per month.
Features:
Robust structural frame made up of galvanized coated aluminum which ultimately led to longer service life.
Suitable for applications where there is a high risk of damage due to moisture, chemicals, or other corrosive agents.
Efficient and Smooth material flow to ensure continuous operation.
The rollers are equipped with bearings to reduce noise and vibration during operation.
High efficiency and reduce manual labor.
Easily to integrate with other machines and various accessories.
Technical Specifications :
Load Capacity: 30-200kg/Roller
Roller Diameter: 50/60/76mm
Material of Frame: Carbon Steel/Stainless Steel
Size: Customized Design
Brand :Sigma
Type :Vertical Conveyors, Spiral Conveyors
Capacity :1 to 50 (kg/feet)
Usage/Application :Industrial
Material Handling Capacity :1-50 kg per feet, 200-300 kg per feet
Length :1-10 feet, 60-100 feet
FAQs: Aluminum Roller Conveyor
What is an Aluminum Roller Conveyor?
Aluminum Roller Conveyor is a robust and sturdy mechanical roller-type conveyor designed to move flat-bottom objects such as carton boxes and more within industrial facilities. It is in high demand within industrial facilities, warehouses, and distribution centers to ensure the continuous movement of various types of products. This heavy-duty material handling unit requires minimal maintenance and does not require external power, making it highly demanding within various industrial sectors. The adjustable design of this conveyor makes it easier to install it within industrial facilities.
What are the benefits of using Aluminum Roller Conveyors?
Aluminum roller conveyor is in high demand within various applications due to the following advantages:
Easy to Handle: The offered heavy-duty conveyor is easier to install and maneuver.
Corrosion Resistance: The aluminum used for the construction of this sturdy material handling unit is coated with a non-corrosive coat that provides excellent protection from a harsh corrosive environment.
High Strength-to-Weight Ratio: Despite its lightweight nature, aluminum offers impressive strength. This characteristic allows aluminum roller conveyors to support substantial loads while maintaining their structural integrity.
Cost-Effective: The machine does not require external power and there is very less maintenance requirement, making it highly cost efficient.
Noise Reduction: The rollers installed within this machine are fixed with bearings to ensure noiseless operation.
What industries commonly use Aluminum Roller Conveyors?
Industries, where Aluminum Roller Conveyor is used, are:
Manufacturing: To ensure continuous transportation of various types of goods used for manufacturing.
Warehousing and Distribution: Small to large-scale warehouses and distribution centers to easily handle packages, boxes, and goods.
Food and Beverage: To maintain efficient transfer of raw as well as processed food products.
Automotive: Handling various types of small to large-scale vehicle components within the production line.
E-commerce and Retail: Efficient and safe transportation of various types of products within e-commerce industries.

What maintenance is required for Aluminum Roller Conveyors?
Some of the key maintenance tasks to consider to maintain the conveyor in its optimal state are:
Regular Cleaning of machine frame and components to prevent buildup of dust, debris, and dirt.
Application of lubrication of various types of mechanical components to reduce friction and excessive wear.
Regular inspection of various types of mechanical and electrical components to avoid further issues.
Test emergency stop features to avoid accidents within abnormal operational conditions.
Can Aluminum Roller Conveyor be used outdoors?
Aluminum Roller Conveyor is in high demand within various applications within indoor as well as outdoor applications for efficient and safe transportation of small to large-sized objects. This machine is fabricated by using top-grade galvanized coated aluminum that provides high rigidity and strength to bear harsh outdoor conditions which ultimately lead to longer service life.