Bulk Bag Filling Machine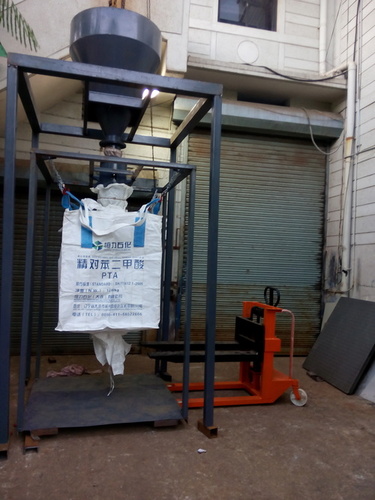 Bulk Bag Filling Machine
Price And Quantity
Product Specifications
Filling Machine

Stainless Steel
3 Horsepower (HP)

240 Volt (v)
Product Description
Bulk Bag Filling Machine is a productive industrial machine designed to fill large-sized plastic sacks with powdered, granular, and pelletized products. This high-speed machine is designed to automate the packaging process without the risk of material wastage. It is equipped with a highly active weighing mechanism that allows you to fill bags with high precision and accuracy. The structural frame of this industrial-grade packaging unit is fabricated by using best-in-class engineering materials that give high rigidity and strength to withstand extreme industrial conditions. Bulk Bag Filling Machine is capable to run efficiently for longer periods without the risk of damage. The offered machine finds its application in various industries which include chemicals, food processing, mining, agriculture, construction, and more.
Features:
The bulk bag filling machine has following features:
Robust alloyed steel construction to withstand harsh industrial conditions.
Provided a reliable bag clamping mechanism to securely hold the bags in their place during the filling process.
A highly active weighing system that helps to fill bags with precision and consistency.
Pollution control with the help of its advanced dust collection system.

Simple-to-use control systems ensure easy adjustment of operational parameters.

Integration design makes it compatible with other industrial units.
Easy maintenance and cleaning that helps to minimize downtime.
FAQs: Bulk Bag Filling Machine
What are the main components of a bulk bag filling machine?
There are several components within an industrial Bulk Bag Filling Machine, some of the key parts are:
Bag Support Framework: It is a rigid support supporting frame that carries various other components of the machine. It provides high stability and strength to the machine.
Bag Clamp: This holding unit is used to hold bags to be filled in their place during the filling process to avoid spilling materials.

Weighing System: This smart weighing mechanism is equipped with highly active load cells to accurately measure the weight of materials.

Inlet Valve: It is used to control the rate of materials entering the bag as well as ensure safe discharge to avoid material wastage.

Control Panel: A simple-to-use control system to easily operate this industrial unit.
What types of materials can be filled using Bulk Bag Filling Machine?
The versatility of the Bulk Bag Filling Machine makes it ideal to fill various types of products which include:
Powders: Various types of food, pharmaceutical, chemical, and beverage products such as spices, coffee powder, flour, pharmaceutical ingredients, chemical substances, and detergents.
Small Solids: This machine is capable to handle small solids and pellets such as tablets, capsules, candies, and small mechanical components.
Granules: Products that are available in the form of small granules such as fertilizers, herbicides, plant growth promoters, and more.
What are the benefits of using a bulk bag filling machine?
Bulk Bag Filling Machine offers several advantages. The most common advantages are listed below:
The filling process is relatively faster as compared to a manual method which results in improved productivity.
The improved efficiency, less power consumption, and reduced manual labor greatly minimize the operational cost.
Excellent filling efficiency with zero risk of overfilling or underfilling.
The machine comes with advanced safety features to ensure controlled and safe operation without the risk of accidents.
Compatibility with various types of solid, granular, and powdered materials.
Are there any environmental considerations for using the machine?
Some of the key environmental considerations are:
Emissions and Pollution: Use machines that run on electrically powered machines to eliminate the release of harmful pollutants.
Resource Usage: Use resources to reduce overall resource consumption and waste generation.
Waste Management: Select machine models that produce less waste
Noise Pollution: The power drives installed within the machine need to be secured within an acoustic enclosure to reduce excessive noise.
Environmental Regulations: Follow environmental regulations to align with required environmental criteria.
Trade Information
Standard Packing

All India