Edible Oil Packing Machine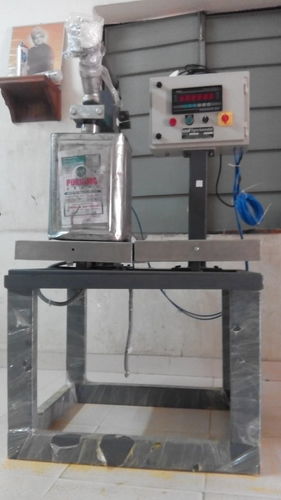 Edible Oil Packing Machine
Price And Quantity
Product Specifications
Edible Oil Packing Machine

Food Beverage
Electric

High Performance ECO Friendly High Efficiency Simple Control
Product Description
Backed by our state-of-the-art production facility equipped with latest machines and tools, we are offering our clients a superior quality range of Edible Oil Packing Machine. It is widely demanded for packaging of edible oil in packaging and food processing industries. This machine is manufactured by our professionals by making using of excellent quality raw material and advance engineering concepts. Offered in various specifications as per the needs of clients, this machine is precisely engineered and made available at pocket friendly prices.
The offered Edible Oil Packing Machine runs on a standard three-phase voltage of up to 440 volts to ensure safe and efficient operation. It is suitable for small to large-scale industries due to its excellent scalability. The sturdy machine frame and heavy-duty components provide high rigidity and strength to withstand extreme industrial conditions.
Features:
Quick and controlled flow of oil to ensure efficient filling with predetermined quantity.

Ideal for filling different-sized tin containers.

Reduced product wastage and high uniformity.

Reliable sealing mechanism to prevent spilling of oil.

Intelligent dosing control that allows you to set the desired volume of oil.

Highly sensitive load cells that give the accurate weight of the empty as well as filled cans.
Edible Oil Packing Machine specifications:

The stroke of nozzle holder and the tallness of the spouts are movable for accomplishing smooth section and way out of spouts inside the neck of compartments and maintain a strategic distance from sprinkle, spillage of fluid or trickling at sides,
No breakage of compartments in the occasion focusing is not done accurately as nozzle holder is spring stacked,
Non return valve is precisely planned and machined to accomplish dribble confirmation come about and maintain a strategic distance from chaotic stage and compartments,
The unit can be immediately disassembled for upkeep just by opening intro page,
Every single part can be gone to for cleaning operation or upkeep with no obstacles.
FAQs: Edible Oil Packing Machine
How does the machine work?
The filling cycle of the Edible Oil Packing Machine involves the following steps:
Placement of container on filling station.

The machine controller is set to the required values which include filling volume, flow rate, etc.

Now the filling mechanism is actuated to fill tin cans.

When the container is filled the inlet port of the can is sealed with the help of a sealing mechanism.

After the process, the weight and quality of the can is checked for quality purposes.
What are the advantages of using an edible oil packing machine?
There are several benefits of using an Edible Oil Packing Machine. Some of the common advantages are:
Fully automated operation.

Consistent filling of oil with different viscosities.

Zero risk of spillage, overfilling, or inconsistent filling.

Minimized human contact with the product eliminates the risk of product contamination.

Compatible to fill various types of packages such as pouches, bottles, and tin containers of different sizes.
Is the Edible Oil Packing Machine easy to clean and maintain?
Edible Oil Packing Machine can be easily cleaned to keep the machine in its optimal state which ultimately led to longer service life. The common factors that can influence the cleanliness of this machine are:
Material used for fabrication.

Ease to disassemble machine components.

Maintenance manuals are provided by the manufacturer.

Proper training of the operator.
Can the machine integrate with other production line equipment?
Edible oil packing machine has a modular design with advanced options making it compatible with various other industrial equipment. This machine can be easily integrated with machines such as conveyors, label printers, sealing machines, and more to enhance overall productivity as well as reduce the operational cost.