FIBC Bag Filling Machine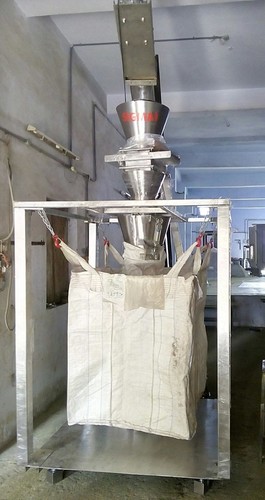 FIBC Bag Filling Machine
Price And Quantity
Product Specifications
M.S. and S.S.

10-12 Kg/hr
Semi-Automatic

440 Volt (v)
Product Description
Our company is known as one of the leading manufacturers and suppliers of Fibc Bag Filling Machine that is commonly used in industrial facilities to fill various types of moisture-free products in large volumes. The structural frame of this unit is fabricated by using top-quality alloyed steel and cast iron that gives high rigidity and strength to withstand harsh industrial conditions. This machine can be used for the filling of flexible bags made up of light to medium thermoplastics. The high efficiency and reduced manual labor make it highly demanding among our customers. Customers can get this high-performance Fibc Bag Filling Machine as per their demands within the price range of 350000 to 600000 INR per unit.
Features:
Fibc Bag Filling Machine is a fully automated machine that is designed to automate the bag filling line to efficiently pack various-sized plastic bags with granular, powdered, and pellet substances. The main features of this industrial machine are:
Weighing System: Precise weighing system that allows you to fill bags in different volumes.
Material Handling Options: Suitable for a wide range of products in powdered, granular, flaked, and solid forms.
Bag Clamping Mechanism: To securely hold bags to be filled the machine comes with a reliable holding system that helps to prevent the spilling of materials during the filling process.
Dust Collection System: This unit helps to capture various types of airborne impurities that result in high cleanliness within the working area.
Interactive HMI: The simple-to-use human-machine interface equipped with this machine makes it easier for a single user to operate this machine.
Safety Features: Premium-quality safety devices are installed within the bag-filling machine to eliminate the risk of accidents.
FAQs: Fibc Bag Filling Machine
What are the main components of an FIBC bag filling machine?
Fibc Bag Filling Machine consists of various components:
Inlet Hopper: This inverted conical-shaped component is designed to carry materials to be filled during the loading process.
Weighing System: It is equipped with highly sensitive load cells that help to measure the weight of materials to ensure high weighing consistency.
Fill Spout: It is a sturdy filling valve that is designed to deliver materials into the bag without the risk of material wastage.
Bag Clamps: These safety units are designed to secure bags in their position during the filling process.
Dust Collection System: This pollution control unit helps to maintain high cleanliness in the working area.
Controls System: Advanced automation controllers make it easier to adjust operational parameters.
What are the advantages of using an FIBC bag filling machine?
Given below are the main advantages of the FIBC bag filling machine:
Zero material wastage.
Increased filling efficiency and productivity.
The adjustable filling speed with better control.
Environment friendliness and easy cleaning.
Precision filling with zero risk of spillage.
Fully automated operation which results in low manual labor.
What safety features are incorporated into the machine?
Some of the most common safety features incorporated within the Fibc Bag Filling Machine are:
Emergency Stop Button: This safety unit is used to stop the machine by shutting down the main supply in case of abnormal functioning.
Safety Signs: These visible signs are used to warn operators against accident-prone areas of the machine.
Audio & Visual Alarms: These devices are designed to give emergency signals in case of abnormal functioning and accidents.
Surge Protection: These electrical devices are used to eliminate the risk of accidents due to power fluctuations and overloads.
Safety Guards: They are commonly used to cover moving parts to protect operators in case of accidents.
How much maintenance does the machine require?
To maintain FBIC Bag Filling Machine in its optimal state it is required to perform various maintenance tasks on the machine. The common activities that need to be followed to maintain the filling machine are:
Regular cleaning: Keep machine surfaces and components free from debris, dust, and contaminants that may cause damage to the machine.
Lubrication: Properly lubricate various types of metallic parts that move to low as well as high speeds to reduce wear and tear.
Inspections: It is essential to regularly check various mechanical as well as electrical components of the filling machine to eliminate the risk of accidents.
Component replacement: Immediately replace damaged components to eliminate the risk of accidents.
Training: Give proper training to the operators to prevent mishandling of machines which in turn reduces accidents.
Can the machine be integrated into existing production lines?
FBIC Bag Filling Machine is a versatile packaging machine that can be used in various industrial facilities. The machine is designed as per industrial standards making it compatible with other machines within the production lines. It can be easily installed to ensure streamlined operation with high productivity and zero risk of accidents.
Trade Information
Standard Packing

All India