Flat Belt Conveyor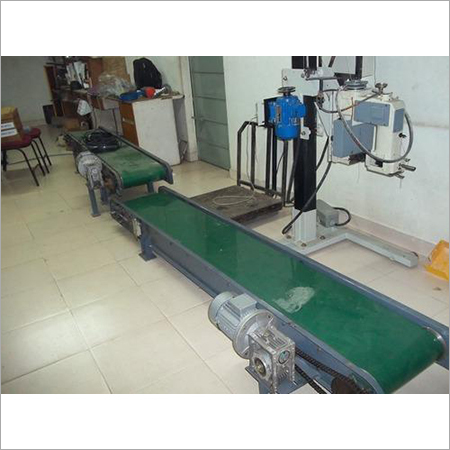 Flat Belt Conveyor
Price And Quantity
Product Specifications
Aluminium, Plastic

Belt Conveyor
Heat Resistant

50-200 Tonne
Product Description
Our egonomically designed Flat Belt Conveyor is designed for carrying different materials of a belt conveyor system. There two pulleys comprises of endless loop of carrying medium on which the conveyor rotates. These are powerful enough to move the belt and material placed on it with ease. Our offered range is designed to be used for transporting large volume of agricultural and other materials like grain, salt, coal, ore, sand and overburden material. Flat Belt Conveyor is checked on numerous quality parameters under the stern guidance of our professionals.
A Flat Belt Conveyor is a basic and adaptable conveying system that is used in a variety of industries to carry lightweight to medium-weight products. It is made up of a flat belt that passes constantly over pulleys or rollers at both ends of the conveyor. It is commonly composed of rubber or a synthetic substance.
Features of Flat Belt Conveyor
It has heat-resistant qualities, allowing it to transport materials at high temperatures without distortion or damage to the belt.
Capable of carrying high loads, with a load capacity ranging from 50 to 200 tons, it is ideal for delivering heavy materials or products.
Flat Belt Conveyor Technical Specifications:
Load Capacity: 50-200t/H
Frame Surface Processing: Painting or Galvanized
Idler Diameter: 60-219mm
Function: Conveying Bulk Materials
FAQs : Flat Belt Conveyor
What is the idler diameter range utilised in the Flat Belt Conveyor?
Idler rollers with diameters ranging from 60mm to 219mm are used on the Flat Belt Conveyor. The diameter of the idler is determined by the conveyor's load capacity and the kind of bulk items being carried.
What is the Flat Belt Conveyor's major function?
The Flat Belt Conveyor is primarily intended for moving bulk items. It moves a wide range of loose, granular, or powdered materials such as grains, minerals, aggregates, and other bulk goods effectively.
Is the Flat Belt Conveyor appropriate for high-volume applications?
Yes, the Flat Belt Conveyor can handle heavy-duty tasks. It has a load capacity of 50 to 200 tons.