Hanger Bearing Screw Conveyor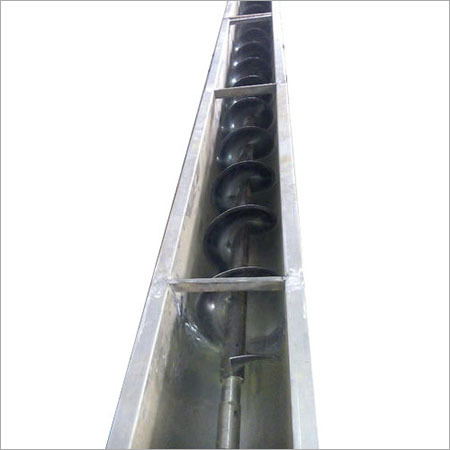 Hanger Bearing Screw Conveyor
Price And Quantity
Product Specifications
Hanger Bearing Screw Conveyor

Industrial
Carbon Steel, Stainless Steel

Screw Conveyor
Fire Resistant

25-120 Tonne
Product Description
Hanger-bearing screw conveyor is frequently employed in industrial settings for the effective transportation of bulk goods. It involves the movement of materials down a tube or through using a revolving helical screw blade. The unique feature of the hanger bearing screw conveyor is the inclusion of a hanger bearing, which stabilizes and supports the screw shaft, reduces friction, and enables more dependable and smoother material conveyance. To prevent the screw from drooping or bending under the weight of the items being delivered, the hanger bearing is placed strategically along the length of the conveyor. This function is very useful for transporting bulky or abrasive materials.
Features:

With its robust and long-lasting construction, the Hanger Bearing Screw Conveyor offers dependable performance in a variety of industrial applications.

This conveyor transfers bulk items effectively because of its unique screw design, minimizing manual work and raising operational effectiveness overall.

The Hanger Bearing Screw Conveyor is a versatile conveyor that can handle a variety of materials, from small grains to fine powders, making it appropriate for a variety of industries.

This conveyor system has a low maintenance need and few moving parts, which lowers downtime and operating expenses. It also has self-lubricating components.

The conveyor may be modified in terms of length, diameter, and material to accommodate various processing needs and physical limitations.
Product details
| | |
| --- | --- |
| Usage/Application | Industrial |
| Brand | Sigma |
| Length | 1-10 feet |
| Material Handling Capacity | 1-50 kg per feet |
| Automation Grade | Manual |
| Frequency | 50 Hz |
| Voltage | 230-240 V |
| Material | Stainless Steel |
Specification
Customized: Customized
Capacity: 25-120t/H
Screw Diameter: as Per The Model
Housing Diameter: as Per The Model
Max. Length: 35m
Motor Power: as The Capacity
FAQs:
What is the purpose of a hanger bearing in a screw conveyor system?
The hanger bearing supports and stabilizes the screw conveyor shaft, preventing deflection and ensuring smooth material handling.
How does temperature variation impact the performance of hanger bearings in screw conveyors?
Temperature variation can affect hanger bearing lubrication, causing changes in viscosity and potentially leading to increased friction and wear in screw conveyor systems.
How do I install and properly align a hanger bearing in my screw conveyor setup?
To install and align a hanger bearing in your screw conveyor setup, ensure precise positioning along the shaft, maintain proper clearances, and follow manufacturer guidelines for secure attachment