Loading and Unloading Conveyor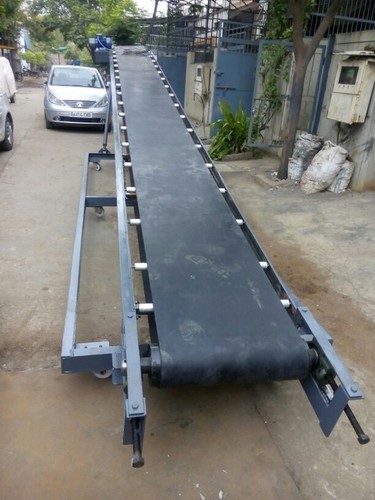 Loading and Unloading Conveyor
Price And Quantity
Product Specifications
Loading and Unloading Conveyor

1-10 Foot (ft)
620 Kilograms (kg)

Flat Belt
400 Volt (v)

220 Watt (w)
Product Description
Our Loading & Unloading Conveyors are hand crafted and created according to the necessities of the application as well as can be altered for measurements, passing on limit and stacking/emptying limit demanded by the material to be passed on. Our Loading & Unloading Conveyors give exceptionally productive and efficient arrangements for stacking free flowable mass materials. The transports are utilized in loose compartment quick stacking and emptying totally untouched. Offered conveyors have strong development and field tried outline for trouble safe and long life operation.
The "Loading and Unloading Conveyor" is a specialized conveyor system used for the purpose of loading and unloading the materials or goods effectively and swiftly in a variety of sectors. It has various characteristics that improve its functionality and usefulness.
Features of Loading & Unloading Conveyors
The height of the conveyor is normally adjustable.
Typically, the conveyor has variable speed control.
It is made of long-lasting materials.



Download Brochure


FAQs : Loading & Unloading Conveyors
Can the conveyor transport goods both forward and backward?
Yes, many Loading and Unloading Conveyors are bidirectional, allowing items to be moved both forward and backward.
What role does variable speed control play in the conveyor?
Variable speed control allows the users or operators to alter the conveyor's speed meanwhile handling diverse materials.
What are the advantages of the adjustable height feature of this machine?
The adjustable height function allows the conveyor to line with multiple loading or unloading locations.