Screw Conveyor Hopper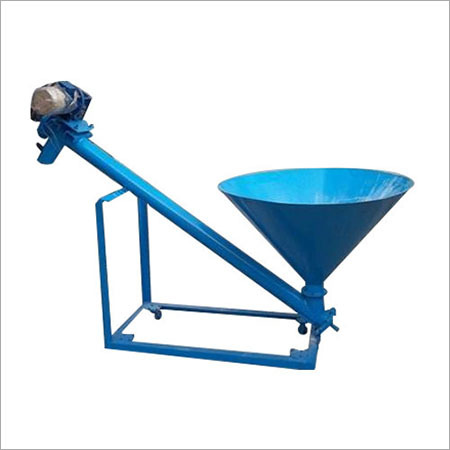 Screw Conveyor Hopper
Price And Quantity
Product Specifications
10-20 Foot (ft)

Screw Conveyor Hopper
Carbon Steel, Mild Steel, Stainless Steel

Other
Heat Resistant

500 - 3000 Kilograms (kg)
Product Description
The Screw Conveyor Hopper is an ideal solution for quickly and efficiently transferring dry, granular, and powdered materials. With its robust steel construction, it is strong enough to withstand the toughest industrial applications. The design of the hopper minimizes jams and includes interlocking safety doors to ensure worker safety. The reliable and efficient Screw Conveyor Hopper is an excellent choice for any workshop or factory.
A Screw Conveyor Hopper is an essential aspect of a screw conveyor system that allows for the efficient and controlled transportation of bulk items from one area to another. This specialized hopper is essential in a variety of sectors, including agricultural, food processing, mining, and construction. The Screw Conveyor Hopper is intended primarily for handling bulk solids such as grains, powders, granules, and other free-flowing materials. The capacity of the hopper might vary depending on the application and the volume of material to be carried.
Features,

It is available in a range of materials, including Carbon Steel, Mild Steel, and Stainless Steel.
Its tough structure combined with heat-resistant characteristics makes it excellent for handling materials at high temperatures.
The conveyor has a large load capacity that ranges from 500 to 3000 kilograms.

Screw Conveyor Hopper Technical Specifications:
Load capacity: load 500 kg, 1000 kg, 2000 kg and 3000 kg
Scer Pipe: 100 to 200mm
Scer Pipe Lenght: 6 ft to 20 20ft
Power: 2HP to 5 HP
Screw Charging Hopper: 50 to 150 kg Capacity
Movable or Fix As Par Customer Requirement
Type : Vertical, Horizontal
Usage/Application : Industrial
Brand : Sigma
Length : 10-20 feet
Frequency : 50 Hz
Voltage : 230-240 V
Material : Mild Steel
FAQs : Screw Conveyor Hopper
What is the screw conveyor hopper's length range?
The Screw Conveyor Hopper is available in lengths ranging from 10 to 20 feet, allowing for adaptability to diverse material transfer distances and space needs.
What is the operating frequency of the Screw Conveyor Hopper?
The Screw Conveyor Hopper has a frequency of 50 Hz, which ensures constant and dependable performance throughout material handling activities.
What voltage is needed to power the Screw Conveyor Hopper?
The Screw Conveyor Hopper operates on a voltage range of 230-240 V.
Is it safe to work with?
Definitely, It is a safe choice and has a user friendly interface.
Trade Information
Asia Australia Africa

All India