Vertical Bucket Conveyor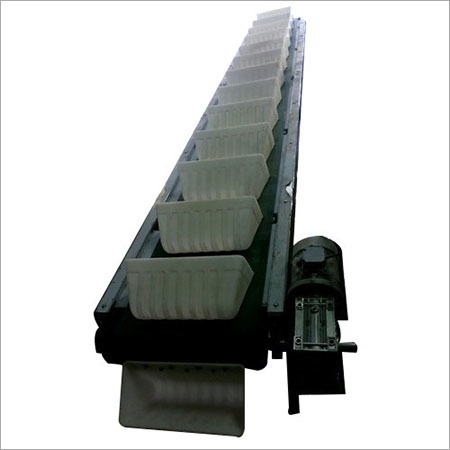 Vertical Bucket Conveyor
Price And Quantity
Product Specifications
Vertical Bucket Conveyor

Stainless Steel
Bucket Conveyor

1 to 3 Tonne
400 Volt (v)

3000 Watt (w)
Product Description
Vertical Bucket Conveyor is an electrically powered machine that is commonly used in food, beverage, chemical, cement manufacturing, and more to move large volumes of various types of products. The structural frame of this machine is manufactured by using top-grade alloyed steel that gives high rigidity and strength to bear extreme loads of materials and vibrations produced during operation. It is equipped with an electric motor making it easier to deliver rotational power at variable speeds. The buckets of this machine are fabricated by using top-grade high-density thermoplastic making them suitable to carry various types of corrosive as well as non-corrosive materials. Clients can get Vertical Bucket Conveyor as per their requirements with a minimum order quantity of 1 unit at a reasonable price.
Features:
Given below are some of the common features of Vertical Bucket Conveyors are:
Capability to hold and carry many different types of materials in the form of powder, granular, and small solids.
Can be used to transfer materials vertically or at an angle.
Automated and continuous operation makes it suitable to move large volumes of materials.
The rigid and sturdy design makes them capable to bear extremely harsh industrial conditions.
Versatility, making it capable to handle various types of powdered, granular, and pelletized products.
Requires very less maintenance which results in high-cost efficiency.
The machine is equipped with advanced safety systems making it suitable to function under various operational conditions.
Dimension(LxWxH): Vary from different models
Power(W): 3-22kw
Voltage: 220V,380,415V
Form of Lifting: Belt, Chain or Plate
FAQs: Vertical Bucket Conveyor
How does a vertical bucket conveyor work?
A vertical bucket conveyor is an electrically powered material handling unit designed to transport bulk materials. The working cycle of this is described below:
The first is the loading of the materials that need to be transported into the hopper.
The loaded material is then scooped up by the buckets fixed to the conveyor belt.
The material is lifted as the bucket moves to the desired level, where the bucket tilts to pour out the materials.
After this process, the bucket continues the cycle to continuously move the materials.
What are the main components of a vertical bucket conveyor?
A Vertical Bucket Conveyor is made up of several components. The main parts of this industrial conveyor are:
Buckets: The scoop-shaped are designed to collect the materials to be transported from the inlet hopper. They are fixed to the conveyor belt to ensure continuous movement.
Belt: It is an elastic continuous belt that is used as a transmission element between the drive and driven unit to ensure smooth power transfer.
Motor: This electrically powered drive is the heart of the machine as it delivers the power to move the material vertically.
Structural Frame: It is the main support structure on which machine components are fixed. It is made up of top-quality alloyed steel that provides high rigidity and strength to bear extreme loads and vibrations.


What industries use vertical bucket conveyors?
Vertical Bucket Conveyor is a versatile machine designed to move various types of materials continuously in bulk making it suitable for various industrial applications. Some of the common examples are:
Agriculture: For handling materials such as flour, rice, and various types of food grains.
Mining: Transportation of ores, coal, minerals, and sand.
Food and Beverage: Raw food products that are available in powdered, granular, and pellet forms.
Chemical Industry: Efficient and controlled movement of bulk chemical materials.
Waste and Recycling: handling of waste materials that are reduced to small sizes using shredder machines.


What are the advantages of using a vertical bucket conveyor?
The offered Vertical Bucket Conveyor is in high demand due to the following advantages:
Efficient transportation of various types of bulk materials.
Requires less floor space for installation allowing you to efficiently use the space within your facility.
Compatible with various types of fragile materials due to its gentle handling.
Easy-to-change buckets that allow you to easily change the material handling capacity.
Less risk of material wastage.
Continuous operation results in reduced downtime.
High-cost efficiency.


Can a vertical bucket conveyor handle fragile or delicate materials?
A vertical bucket conveyor is suitable to handle various types of delicate materials. There are several factors that need to be considered while handling fragile materials
Bucket Design: The buckets installed need to have gentle & smooth curves that eliminate the risk of damages due to heavy impacts during loading and unloading
Speed: It is advisable to transport fragile materials at low speed to ensure smooth movement without risk of heavy impacts.
Material Properties: Physical and chemical properties of the materials to be transported should be considered to determine the type of bucket used within the conveyor.
Cleaning: Proper cleaning of the bucket also helps to maintain the integrity of delicate products.
Additional Features: You can also install features to damp vibrations as well as to provide a cushioning effect to the materials during transportation.